As some of you know I have a more than passing interest in cake, and my interest extends to other baked goods

On occasion I make some flapjacks / energy bars to take along on rides. Ciar had asked for the recipe ( our Epping rides are really that rad.... ) and as I was going to type it out I thought others might be interested

The recipe I use is based on a Hugh Fearnley-Whittingstall one and I've shown the original ingredients at the end, it's the same method for both.
If you can change an inner tube you can probably deal with this or you could show the recipe to someone more familiar with kitchens etc and offer them money / favors / DIY tasks etc for them to make you some

It should look something like this when it's finished ( not my pic )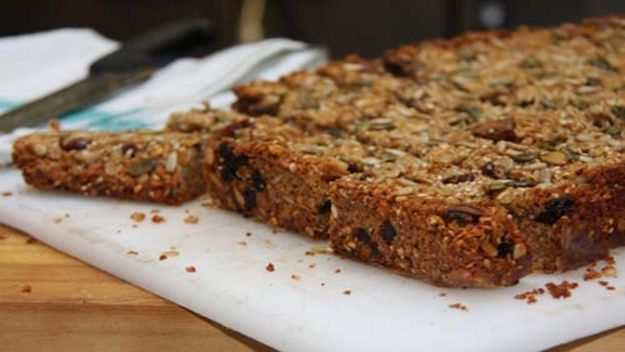 Ingredients:
* 125g unsalted butter
* 150g soft brown sugar or light muscovado sugar
* 75g no-sugar-added crunchy peanut butter
* 75g maple syrup, plus a little more to finish
* 200g porridge oats (not jumbo)
* 300g dried fruit, nuts, seeds
You can use any dried fruit nuts etc that you like the batch I've just made had:
Raisins
Dried cranberries
Dried soft dates
Pecan Nuts
Flaked almonds
I meant to add some chocolate chips too but forgot

I've made them with with seeds like pumpkin, linseed, pin nuts, sesame seeds, sunflower. All a bit more healthy

but I prefer them with fruit and nuts.
You really can just chuck in whatever you want. It's worth chopping things like dates and pecans into smaller bits though.
1. Grease and line a baking tin, about 20cm square ( I just use a normal 30cm rectangular baking tray ). Put the butter, sugar, peanut butter, honey and grated citrus zests ( I use maple syrup and skip the lemon/orange zest ) in a deep saucepan over a very low heat. Leave until melted, stirring from time to time.
2. Stir the oats, dried fruit and three-quarters of the seeds ( I just bung all of it in and then add more

) into the melted butter mixture until thoroughly combined. Spread the mixture out evenly in the baking tin, smoothing the top as you go.
3. Scatter the remaining seeds over the surface and trickle with a little more honey ( I sprinkle sesame seeds and then use maple syrup, gives it a slightly crispy top ) . Place in an oven preheated to 160°C/Gas Mark 3 and bake for about 30 minutes, until golden in the centre and golden brown at the edges.
4. Leave to cool completely in the tin (be patient - it cuts much better when cold), then turn out and cut into squares with a sharp knife. These bars will keep for 5-7 days in an airtight tin. ( I'm going to try freezing some. )
Note : I leave it to cool until it's firm enough to hold together and then turn it out on to a cooling rack and peel the grease proof paper off before leaving it to cool completely... if you don't sometimes bits of the paper stick and it's a pain to pick the bits off

So there you are, some tech, rad, gnarly home baking

Original Ingredients:
* 125g unsalted butter
* 150g soft brown sugar or light muscovado sugar
* 125g no-sugar-added crunchy peanut butter
* 75g honey, plus a little more to finish
* Finely grated zest of 1 orange
* Finely grated zest of 1 lemon
* 200g porridge oats (not jumbo)
* 150g dried fruit, such as raisins, sultanas and chopped apricots, prunes or dates, either singly or in combination
* 150g mixed seeds, such as pumpkin, sunflower, poppy, linseed and sesame