Time for this one again I think

Previous thread....
http://www.essexhertsmtb.co.uk/mountain-bike-away-days-events/chilterns-and-ridgeway-sunday-30th-november-t5952.html
I haven't decided exactly when but thought I'd see who was interested.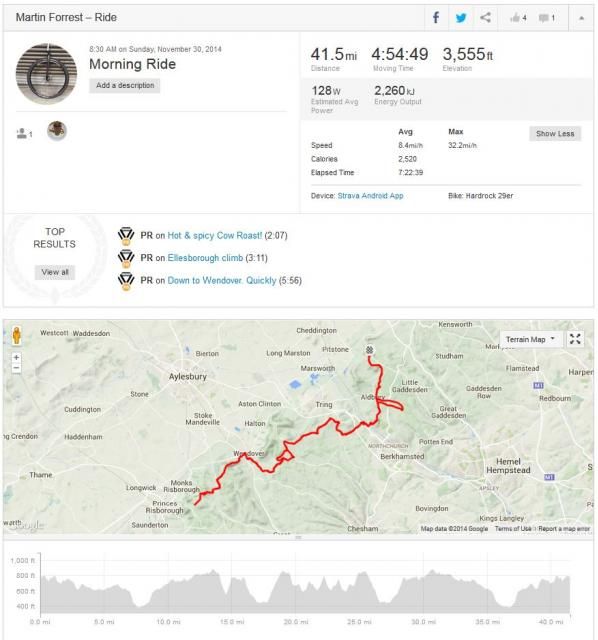 Aiming for approx 45/50 miles total depending on the conditions.
Some important stuff....
From the last time I
think
most of it should be ride-able.... It's mainly bridleway and tarmac ( very quiet B road and single lane stuff ) but there are a few sections that I'm pretty sure will be a foot deep in mud and need pushing through by now. There isn't much single track but the route was good to ride with a few
challenging
climbs

It's not really a beginners ride due to the distance and climbing but there's nothing technical or difficult.
You REALLY need to be
self sufficient
.... to be able to deal with a puncture, weather, carry enough food and drink ( really important ) and to be
happy to get yourself back to the car park if you have to bail
.
I'm not aiming for a blistering pace but I'd like to keep it fairly constant.
Would be an early start... 8:00 at Ivinghoe Beacon to make the most of the day light.
So in summery start 8:00am ride away from carpark for about 4hrs... turnaround ride back

Just to add last time most of it was very ridable but some bit were rather hard going, I doubt it's changed much

Meeting point -
https://www.google.co.uk/maps?q=Ivinghoe+Beacon+National+Trust+Car+Park,+Dunstable&hl=en&ll=51.833464,-0.604559&spn=0.004707,0.011362&sll=51.84527,-0.604763&sspn=0.037648,0.090895&oq=ivinghoe&hq=Ivinghoe+Beacon+National+Trust+Car+Park,&hnear=Dunstable,+Central+Bedfordshire,+United+Kingdom&t=h&z=17