Very long post warning

For me, the rewards from mountain biking come in a few ways.... sometimes it's just a blast, so much fun you wonder if you will ever stop grinning. Other times the reward is a little harder to describe, it comes from having made it to the end.... completing the ride, not bailing out when you've got the chance. I think it's called a 'challenge' .
I new this ride was going to fall very firmly into the second of the two categories, added to the that was the knowledge that the group I was riding with were all fitter and faster than me.... it was going to be an interesting day

So... 9:30am and we're ambling down the main road heading for the first climb, It's a road climb so it can't be that bad...
I'm wrong, here's the first bit.
Here's the rest of it.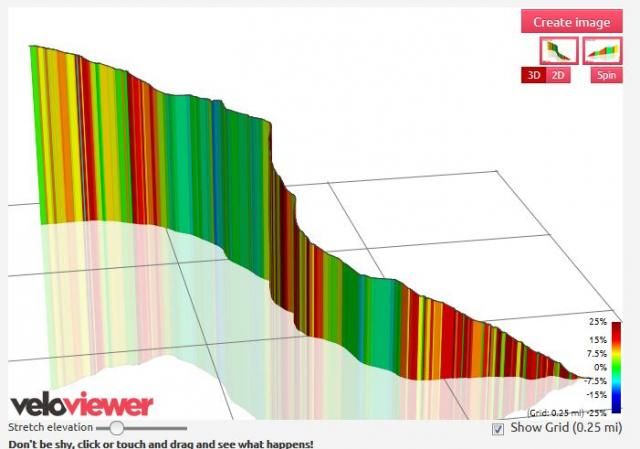 It's only a mile long but it climbs 411ft with a max gradient of 27%. I'm determined not to get of and push on the first climb of the day and hang on in there until the top. During the next 5 minutes that I spend hanging on to a farm gate waiting for my lungs to catch up ( I think they bailed on me about 3/4 of the way up ) I realise that I made a tiny bit of a mistake there.... maybe pacing myself a bit would help

Anyway here's a picture of the fit people making it look easy.
We're on to the single track now and for the next 1.5 miles or so the track climbs and falls but mainly climbs

It's wet and slippery grass, muddy, rutted and rocky.... some bits mange a combination of all of it.... even the fit people are pushing at times.
I've settled into the ride a bit now and in some strange way even enjoying it

Views are stunning...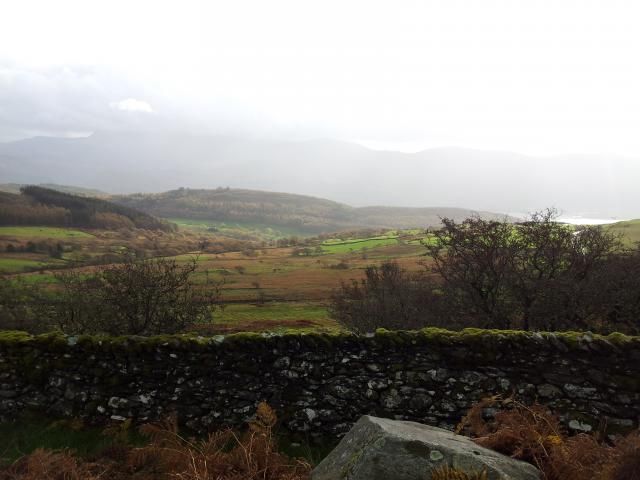 We make it to the top.... 2.5 mile or so and we're 1500ft higher than when we started with about 2000ft of climbing done.
Back on the bike for the first descent

.... I see it and and get back off the bike

I think it may of been a trail at one point in time but it seems that someone lunked a large amount of explosives up there and blew it up.
The people with skill are riding down it... I'm struggling to walk down it. It's a know your limits moment

Then it's on to a mix of single track and grassy downhills. Bits are great fun... grassy bit not so much for me. I have a bit of an aversion to fast grassy downhills

If you want to know why have a look here
http://www.essexhertsmtb.co.uk/mountain-bike-chat/long-mynd-mini-trip-report-t5165.html?hilit=mynd
You might be wondering by now why I'm even doing this

Well here's the start of one section. The trail is rocky but smooth with a covering of leaves but it's not green so I don't care... it's one of those grin moments.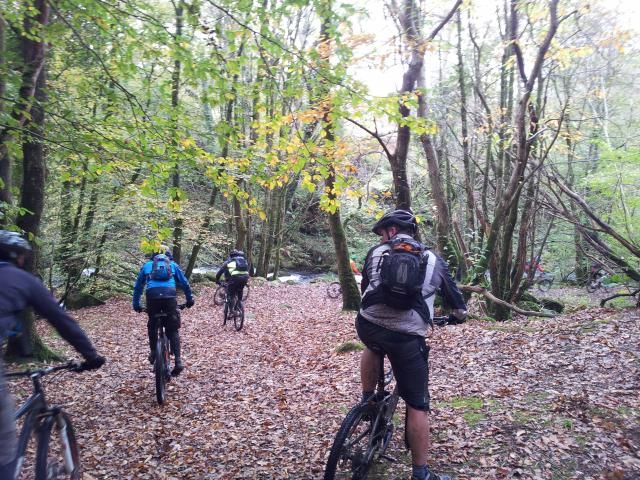 Fast and flowing running along the side of a mountain river

Here's a short video clip ( not mine )
https://flic.kr/p/pEjj7w
We're back down at sea level now and it's time for a spot of lunch

We had a bit of trouble getting a seat.
The afternoon starts with... you've guessed it... a road climb. This one is dead straight so you can see what's coming... I laugh to myself a bit and stare at the bit of tarmac 5ft in from of me for a bit and try to ignore thoughts of 25% gradients, if I don't look at it it can't be happening

The road turns into double track and the gradient drops to a much more sensible rate of 10% to 15%
There are grassy climbs to that are having a pretty good go at matching the tarmac for silly gradients. The view from the top of one.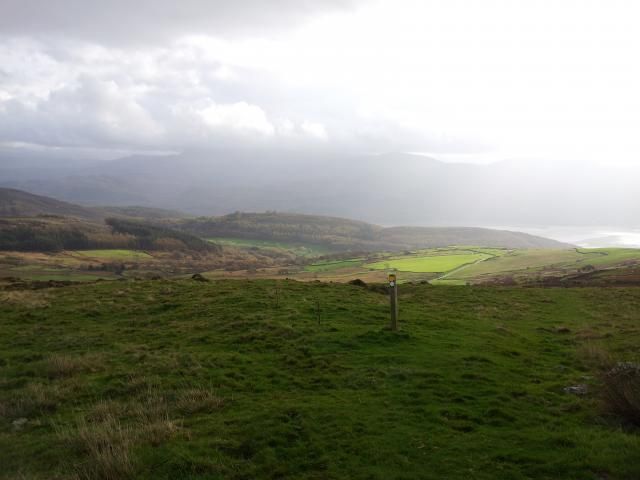 While making my way up this one I came up with a new way of classifying climbs rather than that whole number thing most people use.
Mine goes:
Interesting
Bit steep.
Bloody steep.
F@ck this I'm pushing.
Second part of the categories are on foot and they are:
Interesting
Bit steep.
Bloody steep.
F@ck this but I'm already pushing so I'm going to stop for a minute and get my breath back.
The last grassy climb was a 'F@ck this but I'm already pushing so I'm going to stop for a minute and get my breath back.'
We're up on the moors now and it's off the double track...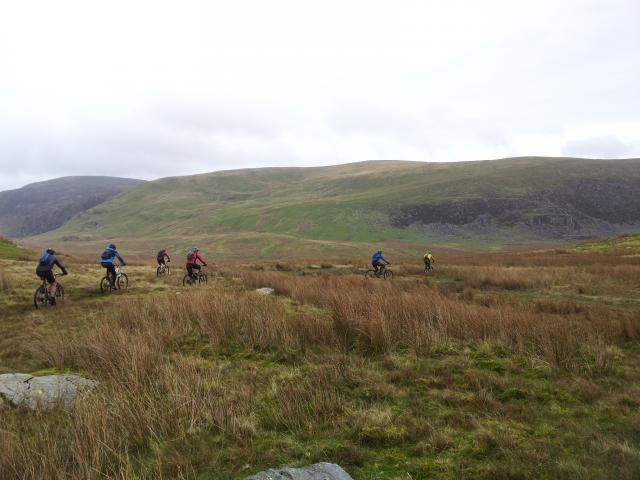 This was a decent... really it was. Enough mud to make Epping look dry but with added ruts and hidden rocks, interesting

Some good bits though

We're heading over to the ridge you can see in the background... I'm trying not to look again.
The start of the climb up the ridge is made of big flat rocks lain in a way that that makes riding them a bit 'tricky'... we're pushing, but at least the view is nice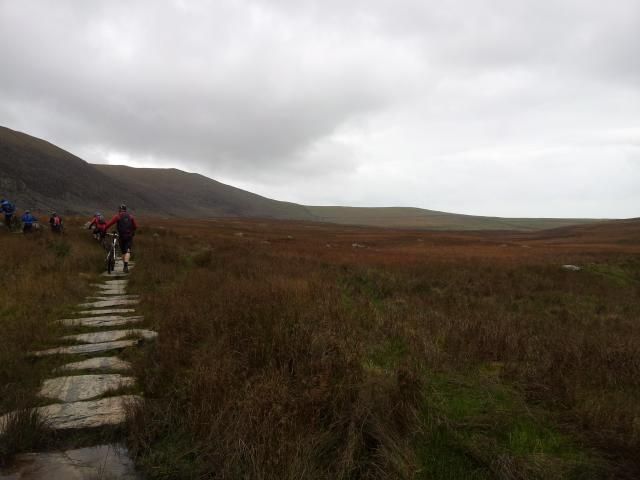 Further up... almost to the top and the view is that bit of ground in front of you... We're back in 25% plus territory.
What the pictures don't show is that it's now blowing a gale... like it's howling and the rain is adding to the fun.
We hide behind a wall at the top and get the Haribo out

But not before carefully stowing the bikes... view down over the bit we've just ridden and walked.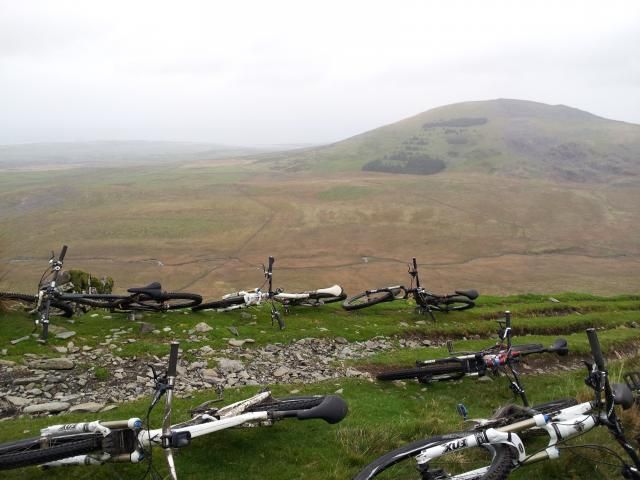 Time for the run back down...
It starts of down a rutted... I mean BB deep ruts running along the side of the ridge with the wind still doing it's best to push into the side of the hill. If you need to correct your line you start to bounce of the sides of the ruts... sort of pinball on a bike... interesting

Stuff like this though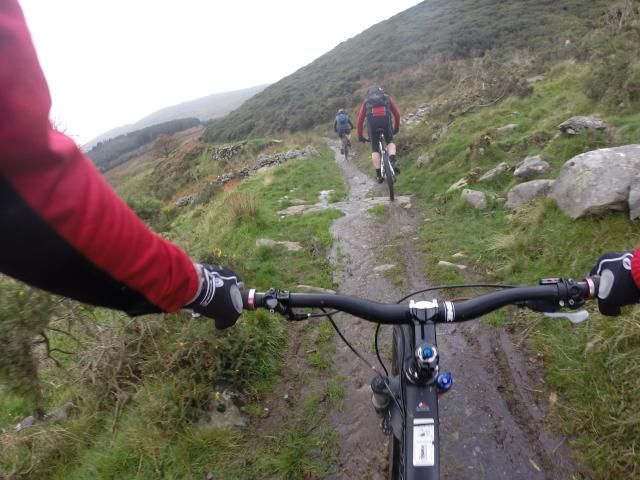 There may have been some grassy bits too... but I'm not talking about them

We're dropping down off the high moors and it's into the muddy, rutty, rocky single track heading for the final run down into the valley through the woods.
The last run of the day was through the woods you can see on the right.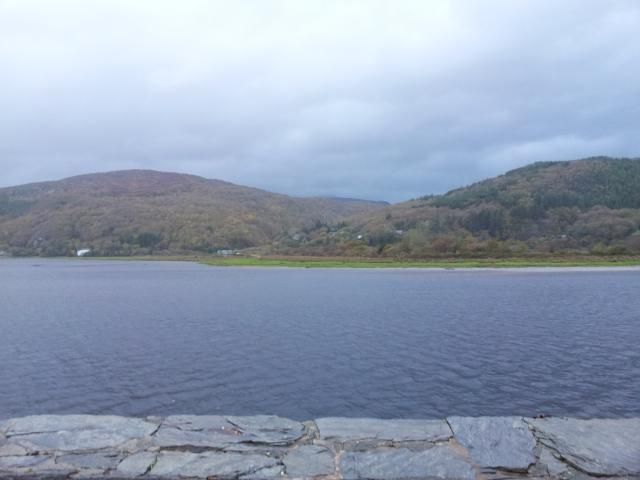 After another little climb the run starts of with a section of path that runs along between the side of a wall and the hill... it's fast and twisty with sharp little climbs and drops, the wall leaves us and the drop to your right focuses your mind... then it's into the woods with a faster rockier version of the mornings final run. This one has bigger rocks hiding in the leaves and some slabs of rock that might as well be ice for all the grip they give. The trail might be straight but you don't spend much time pointing in the direction your going... loved it

We make a little detour over this bridge to stop for a quick pint on the way back.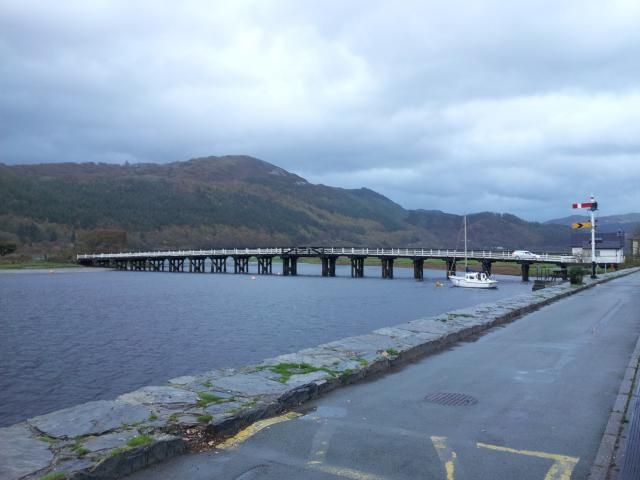 Three pints later it's raining and the wind is howling again, the final three miles on the road in the dark back to the cottage are a blast

So there you are... 23 miles 4270ft of climb and the hardest ride I've ever done....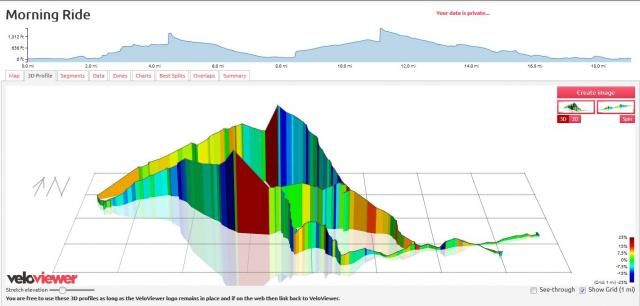 The straight bits on the elevation profile are the bits where I was going so slowly Strava thought I'd stopped and auto paused

So as I said a 'challenge'... would I do it again... god yes and this picture shows why.
(Thanks to Steve for all the on bike pictures and video)