Chicksands Mountain Biking

Riding In Chicksands
With one of the best 4x tracks in the South East, a really fun duel and 3 DH tracks Chicksands has lots of variety. There is also an XC loop although the forest is pretty small and the trails are much less developed. Usually its pretty busy and was £5 last time we were there. There is usually a noodle van which pitches up at weekends which is really good for lunch. With a new lease they can crack on with some building this year after not doing much for a while. The woodwork has gone unfortunately. Recent developments include...
New corners in the 4X and resurface.
New corners in the dual slalom and complete rebuild of berms, split lane all the way to the bottom.
A revamp of the ladder drops to make them out of earth.
A pump track on top of the free ride hill.
There are lots of plans for new stuff. Find out more here http://dirt.mpora.com/news/viva-la-chicksands.html
Chicksands Woods Videos and Pics
Chicksands Location & Links
How to get there by train from London
The nearest station is Arlsey (7 miles) (Kings Cross)
How to get there by car
By car follow the postcode SG175QQ. Thats the nearest postcode and just North of the actual spot.
The car park is here.
Chicksands Bike Park is 80 mins drive from the Dartford bridge and 40 from South Mimm's.

Other Info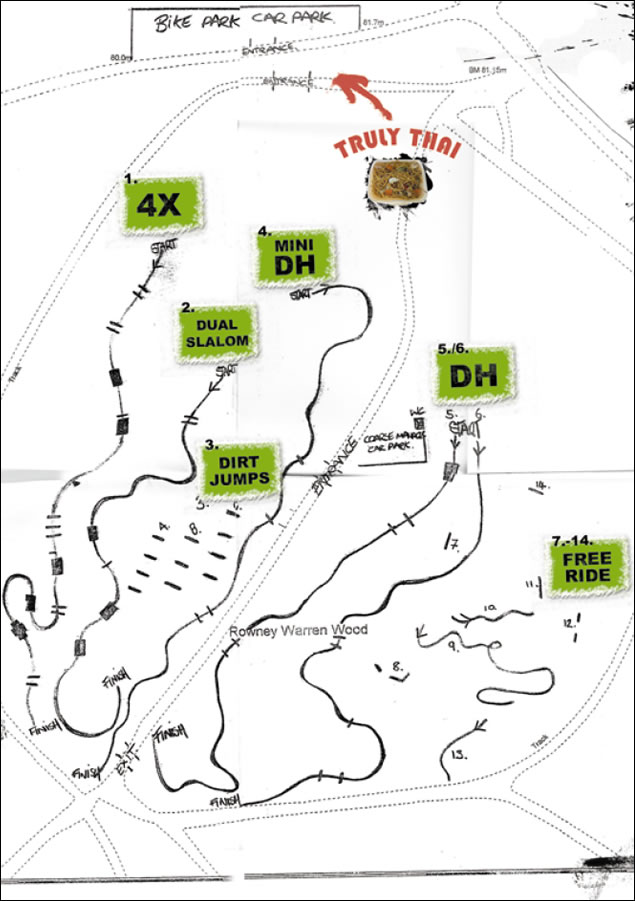 Courtesy of http://www.chicksandsbikepark.co.uk
Chicksands Trail Conditions
Info taken from the
trail conditions thread
on the forum. Unfortunately there are no trail condition updates for Chicksands within the last 6 weeks.
Latest Chicksands Forum Topics