Hainault Forest & Redbridge Mountain Biking

Riding At Hainault Forest & Redbridge
Hainault Forest has some good hills and single-track. It tends to stay drier then Epping. As such it's a good winter alternative. Although there isn't as much variety it makes for a good option. The forest is all in one area with no roads to cross adding to the flow. It's easy to get to on the Central line and so is a good option for those living in London. MTB London does a good write up on riding there
http://mtblondon.wordpress.com/2010/08/10/a-trip-to-hainault-forest/
Cyclists are allowed to use all surfaced paths in Hainault Forest and an off-road link can be followed from Hainault Forest to Havering Country Park. For details of public rights of way and cycling routes in the Forest and Park contact the Country Park Office on 0208 500 7353 for a leaflet and map. Cyclists can also find maps at Country Park Office and at the Visitor Centre which is open every weekend throughout the year.
Redbridge Cycling Centre is a traffic free facility for cyclists of all abilities from families to competitive riders and has purpose built road & off road tracks. There are a couple of nice bermy tracks and table tops. Adults mught get bored a bit quick but its great for the kids.
Hainault Forest & Redbridge Location & Links
How to get there by train from London
The nearest stations are Grange Hill and Hainault tube on the Central line.
How to get there by car
By car follow the postcode IG6 3HP for the cycle centre. The Forest area in on the other side of the road.
Other Info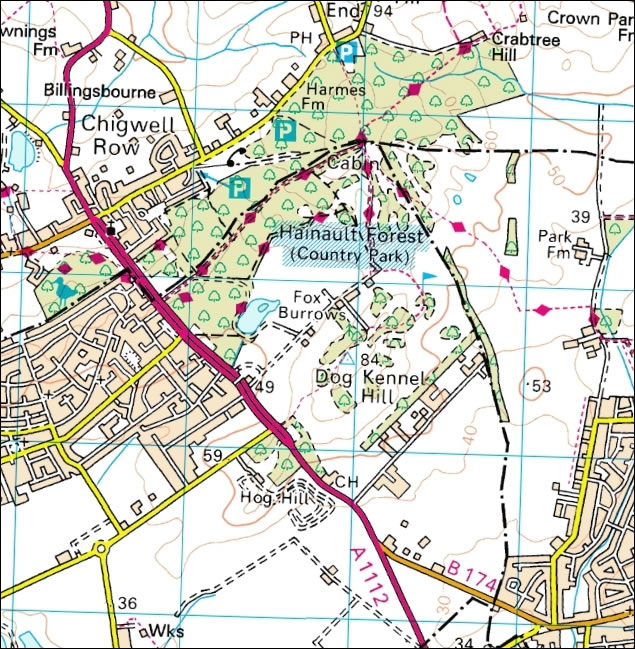 Courtesy of http://www.ordancesurvey.co.uk
Latest Hainault Forest Forum Topics