I'm quite happy to admit that I'm far from an expert mountain biker......
I've been riding for almost 2 years and in that time I've spent more than a few Sundays in Epping. I've managed to drag myself round a few trail centres... Swinley & Bedgebury being to obvious local ones.... Llandegela, Penmachno & Coed y Brenin in Wales. I'm comfortable riding a red and will give the blacks a go if needed

I've survived a few big XC rides, up and down mountains ( ok probably just a hill ) in Wales, Long Mynd and a rather large bit of the Ridgeway.
Maybe
almost
an intermediate sort of rider if you see what I mean

Unfortunately none of that is much help in my current situation..... I'm bouncing down a trail called Potato Alley, why is it called Potato Alley.... well not content with a trail vaguely hacked out of the local bedrock full of awkwardly entertaining little drops and blind ruts someone had the great idea of covering the whole lot in rocks about the size of a potato. Now these aren't your polite southern Jersey Royals more your full on chunky chip King Edwards.
Why am I bouncing rather than riding it like a pro ( intermediate ) ? Well I made the mistake of stopping, ok I didn't mean to stop but stop I did, so now I've got the get going again. I'm bouncing because I can't get my arse off the saddle and I can't get my arse of the saddle because I can't get my right foot clipped back in and I can't get my foot clipped in because I'm bouncing about so much........

It's about know that I realise why despite only being about 18 miles this loop is reckoned to takes us about 5 hrs and I also realise why the Peak District is such a great place to ride a mountain bike

Back to the beginning.... the Ride we're doing is called the Hope Triple 8, why? Because it starts in Hope and is sort of a figure 8 with an extra loop

It's raining when we ride out of the car park on what I'm starting to realise is the beginning for a lot of mtb rides... yep a road climb... only thing is after a couple of miles this is what the road looks like....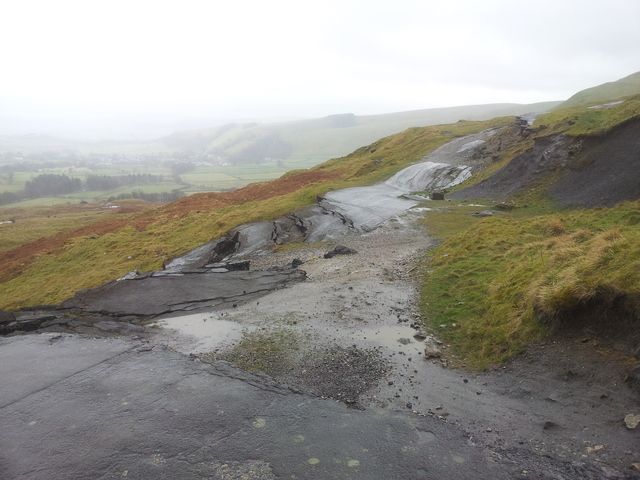 This is new... a road climb with drop offs and techy bits

This bit is called..... wait for it..... 'The Broken Road' I'm starting to note a rather literal approach to naming the trails around here.... at least you know what you're going to get

If you look at the road about the centre of this picture you can see the rest of the group, I've left them for dead on this climb and I'm waiting for them to catch up... I knew the winter training would pay off.... either that or someone has a puncture and they've stopped to fix it while I carried on.... you decide

The road gets is act together after a bit and we carry on climbing, I won't going on about the climbs much in this report just a quick summery Hope to the top of Mam Tor.. about 900ft of rain and howling wind on road and to to tricky single / double track. I survive relatively unscathed.... see that winter training did pay off .
Just a quick note to say that my picture taking was a bit erratic on this ride so google will supply some of the pictures. You can tell the google pictures because they will have things like blue skies and sun in them, mine won't. Also no video so any video is from google too.
The view from the top of Mam Tor looks a bit like this....
That sort of paved trail is rather smooth and fast... we aren't on it for long

The first bit of the descent is my favourite.. rutty grass with added rocks etc but I've come to terms with sort of stuff and ride it in a sort of competent although not exactly fast manor. A bit of that fast smooth stuff and we turn off and down the hill again. More 1ft deep ruts on top of sort of 6' tall grassy ridge. I'm doing ok until I hit a rock and stall but it's ok as I manage to get my foot down.... well it was ok until the wind does that gust from 10mph up to 25mph and I get blown of the egde and tumble 6' down in the gully. I think to myself this is going to hurt a bit so I'm a bit surprised when I land and the bottom is full of nice soft tussocks of grass... result

The rutty grass makes an exit after a while and the rest of the ride down is pretty uneventful, or to put it another way I stay of the bike. Nice flowing single track with a moderate amount of rubble to deal with.
The next climb starts with a water splash at the bottom of the valley... I didn't splash as it was a bit early in the day for wet feet. The sun is just about winning the battle with the rain and it's starting to warm up

Not too bad a climb smooth double track to start with in to a bit of a techy bit to finish.
Here's a picture of a fit person doing the climb on a sunny day.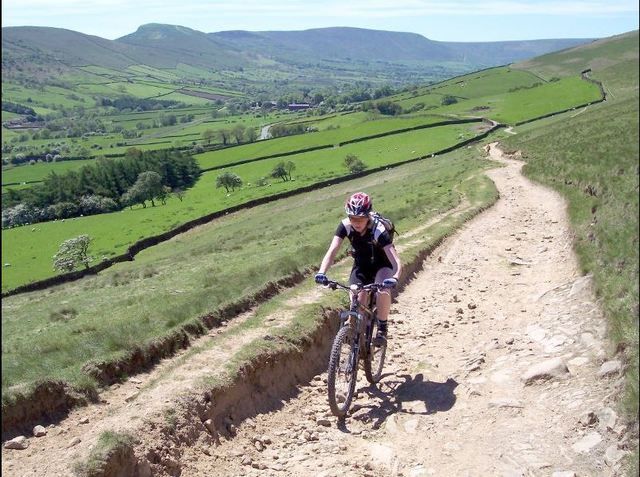 Next down.... rocky I think is the word ( or at least that's what I thought then, now I know better ) but manageable... you could pick a line that missed out most of the larger rocks. I sort of realised that a dropper post would be nice on these sort of rides but I'm getting by with a qr and a bit of warning from Steve who is leading. We pause for a bit and Steve says something about Potato Alley. I don't know that I was really taking much info on board but I'm glad I dropped my saddle.....
Google video.... doesn't really give you an idea if the drops but you might just spot to odd rock on the trail.
After this I'm sort of starting to like the idea of a full sus to fit that dropper post in....
View from the bottom looking back up waiting on the last man down... encouragement is being offered.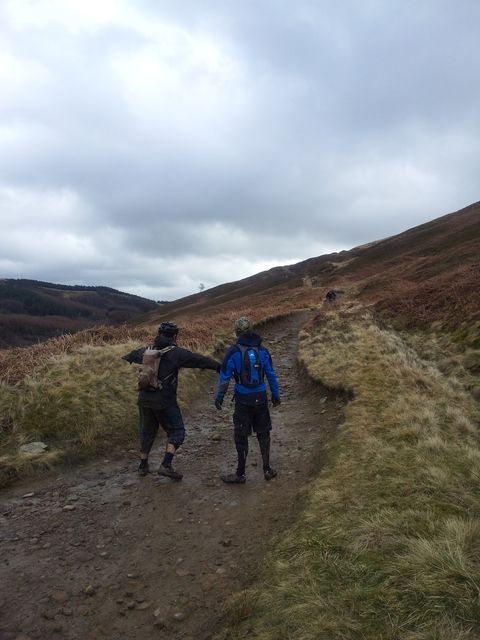 The rest of the ride down is smoother... just lots of rocks rather than loads of rocks. Some bits are even rock free

ruts are making a come back though. I can see one of the other riders ahead directing us to cut a badly rutted and muddy switch back... I make the turn down a grassy slope a bit too soon. A bout half way down the slope I realise two things, one I'm going a bit fast and getting faster, two my brakes work but this doesn't matter as there is zero grip on the wet grass. At the bottom of the slope there is a rutted path and a not very inviting barbed wire fence. A bit of quick thinking and I decide I've got one option... try and make the turn on to the path. I don't really hold out much hope of this working but given the other choices of ride into a barbed wire fence of try turning on the grassy slope which I'm pretty sure will result in a trip over the bars it seems my best bet. I hit the path and lean the bike over to make the turn and it turns out I'm right I'm not going to make the turn. On the up side the back end lets go and I low side it rather than land up flying towards that fence. I pretty much survive this unscathed until the back wheel snags on a rut and I get a smack in the leg from the saddle. In a funny way I'm happy with this as a couple of inches over and it would of been a lot more painful and of resulted in a squeaky voice for a while

We finish the ride down into the valley and cross Snake pass and climb up the other side for the next descent.
The Lockerbrook Descent or the Screaming Mile is the other perhaps more descriptive name....
It starts of smooth ( it's all relative ) and fast ( moderate in my case

) as it swoops down through the woods getting rockier towards the end.... real grin inducing stuff. Add some standing puddles just to make you wonder how deep the dip is. Great trail.... I get to the bottom and the only dry bit on my bike is the rear brake calliper.... no idea why that would be

We amble along the bank of Ladybower Reservoir and stop for a spot of lunch..... cheese and ham panini if you're interested.
After lunch we start climbing again... gravel bridleway up to a rutty grass trail... bit of a rocky ( just for a change ) downhill and we hit the next climb. This one is a push, it's called the Beast. There are another group of riders coming down. Them look like they have been through something 'special'... that sort of haunted look about them. I thought to myself well this is a pretty full on trail but is it really that bad?
Looks like this....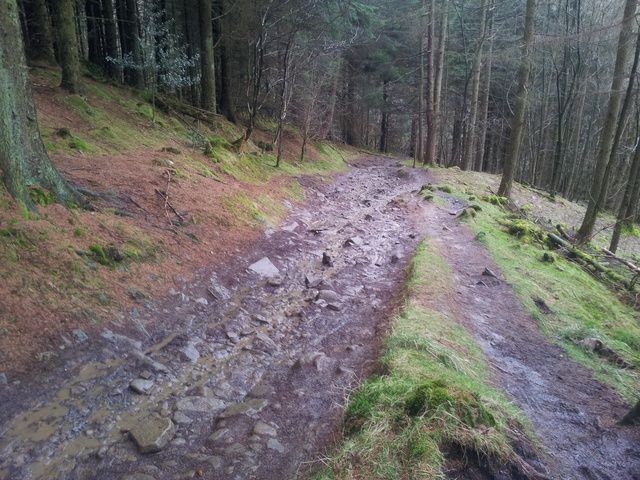 By the time I made it to the top I knew why they looked like that... it went on for ever....
Maybe next time I'll give it a go as a downhill.... just need to leave it a while until I've forgotten what it's like.
Hagg Farm Descent is next ( I'll leave you to figure out how it got it's name )
It's the first bit of this video.... rear calliper was dry again

The end of the video shows the descent down the Beast.