Danbury Mountain Biking

Riding In Danbury
Danbury is a real gem of a place with a small freeride area and expanses of woods for XC. The freeride area is maintained by locals it has lots of little tight flowy downhill runs interspersed with some one off features. A hip, river gaps, kickers etc. There are always lots of Essex Herts MTB rides at Danbury. The local scene is great!
There is a fine balance to be maintained at Danbury with the local residents, National Trust and other users of the land. Please be polite and respectful to walkers, pick up litter and keep away from the garden which looks out over the top of the runs. Please park here
Bicknacre Rd car park
or here
Mayes Lane Car Park
.
The Danbury area also has loads of woods, loosely joined together, which can make for a great day of trail riding. A pumptrack has also been developed at Baddow Hall Park. See below for directions.
Danbury Woods Videos and Pics
Danbury Location & Links
How to get there by train from London
The nearest station is Chelmsford (4 miles)(Liverpool Street)

How to get there by car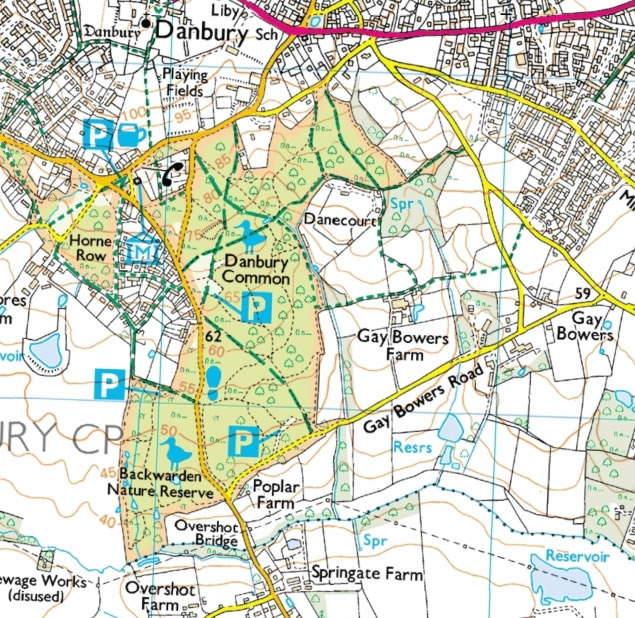 Courtesy of www.ordnancesurvey.co.uk
Danbury Trail Conditions
October 1, 2014, 12:51 pm
"[quote="Mattvanders":36yd72vx] inpale you[/quote:36yd72vx] Now Danbury
Maybe a clear up ride move bits way away from trail, will take forever and a day."
October 1, 2014, 7:24 am
"More logs over Danbury, lots set up to stop you or inpale you"
September 24, 2014, 4:56 pm
"[quote="ParfedOut":1imeonxn]I know where you mean, I have moved some of those logs in an incredible hulk style rage before. Some spiteful dog walker?[/quote:1imeonxn] I've been doing the same, theres even been some home made signs over Danbury which always make me laff (private property but its owned by forestry commission lol !?) Be carefully out there though, friend of a friend ended up over the bars because one of these logs, if I catch who's been doing it they will be getting a proper earful from me
"
September 6, 2014, 8:49 pm
"Yeah danbury was very good today. Still unsure on the routes so was kind of learning it myself. See plenty of riders though"
September 6, 2014, 6:14 pm
"Danbury jumps, bone dry & lighting fast......still a couple fellas riding (fairly fast) with NO LIDS ON..."
Latest Danbury Forum Topics