Danbury Mountain Biking

Riding In Danbury
Danbury is a real gem of a place with a small freeride area and expanses of woods for XC. The freeride area is maintained by locals it has lots of little tight flowy downhill runs interspersed with some one off features. A hip, river gaps, kickers etc. There are always lots of Essex Herts MTB rides at Danbury. The local scene is great!
There is a fine balance to be maintained at Danbury with the local residents, National Trust and other users of the land. Please be polite and respectful to walkers, pick up litter and keep away from the garden which looks out over the top of the runs. Please park here
Bicknacre Rd car park
or here
Mayes Lane Car Park
.
The Danbury area also has loads of woods, loosely joined together, which can make for a great day of trail riding. A pumptrack has also been developed at Baddow Hall Park. See below for directions.
Danbury Woods Videos and Pics
Danbury Location & Links
How to get there by train from London
The nearest station is Chelmsford (4 miles)(Liverpool Street)

How to get there by car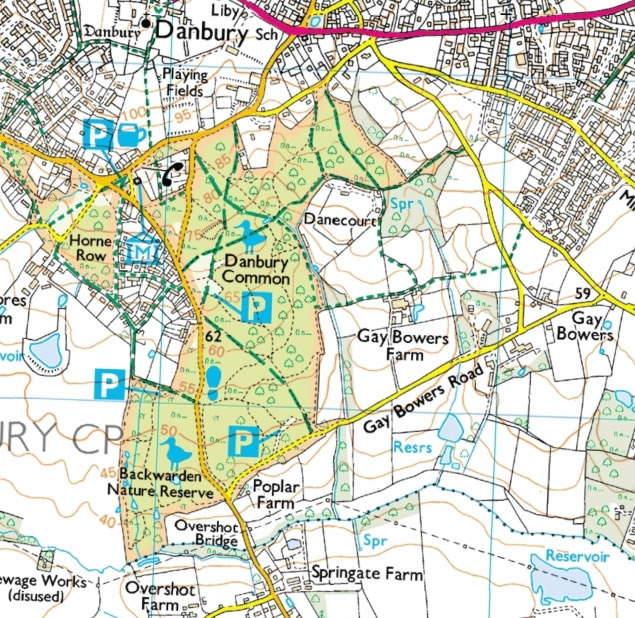 Courtesy of www.ordnancesurvey.co.uk
Danbury Trail Conditions
March 9, 2014, 3:17 pm
"[quote="Madasnibbor":3hgsm7pt]Danbury Xc is running really well a few sloppy bits. [/quote:3hgsm7pt] [img:3hgsm7pt]https://db.tt/nlvgQXbs[/img:3hgsm7pt] Danbury Danbury Danbury"
March 9, 2014, 2:06 pm
"Danbury Xc is running really well a few sloppy bits. Main road down to lingwood wet before second bridge Lingwood bone dry Common by the stream rideable ish carpark down all good Blake's wet as ever but rideable Holy read ? Bone dry Heather hills to pheasant house link wet in the usual spots Heather hills all good field climb I rideable sections Cut back so I did not see pheasant house but main bridleway dry More dry than wet so taking the mud tyre off and putting my conti diesel back on"
March 8, 2014, 4:58 pm
"Gutted the weekend i wanted to go Danbury and I'm stuck sick in bed!!"
March 8, 2014, 2:44 pm
"Danbury jumps,perfect.......no mud,no slop......enjoy..swinley tomorrow
Shelfside"
March 2, 2014, 11:12 am
"Danbury jumps a bit muddy in places but surprisingly very good for the recent weather We've had & again surprisingly busy... Get out & the most of it.......it won't last..... Cheers Shelfside......."
February 24, 2014, 4:58 pm
"I need to get back to danbury ahh"
February 24, 2014, 11:01 am
"Danbury was running real good on Saturday, man it was good to get back over there, and runs have been manicured too
but there needs to be a bigger berm where the trails (two drops and the two berms) merge by that small tree as we were carrying a lot of speed through there making the tree a bit more of a threat than it ever used to be !!"
February 20, 2014, 7:33 pm
"Anyone know how danbury common running ????"
Latest Danbury Forum Topics