Danbury Mountain Biking

Riding In Danbury
Danbury is a real gem of a place with a small freeride area and expanses of woods for XC. The freeride area is maintained by locals it has lots of little tight flowy downhill runs interspersed with some one off features. A hip, river gaps, kickers etc. There are always lots of Essex Herts MTB rides at Danbury. The local scene is great!
There is a fine balance to be maintained at Danbury with the local residents, National Trust and other users of the land. Please be polite and respectful to walkers, pick up litter and keep away from the garden which looks out over the top of the runs. Please park here
Bicknacre Rd car park
or here
Mayes Lane Car Park
.
The Danbury area also has loads of woods, loosely joined together, which can make for a great day of trail riding. A pumptrack has also been developed at Baddow Hall Park. See below for directions.
Danbury Woods Videos and Pics
Danbury Location & Links
How to get there by train from London
The nearest station is Chelmsford (4 miles)(Liverpool Street)

How to get there by car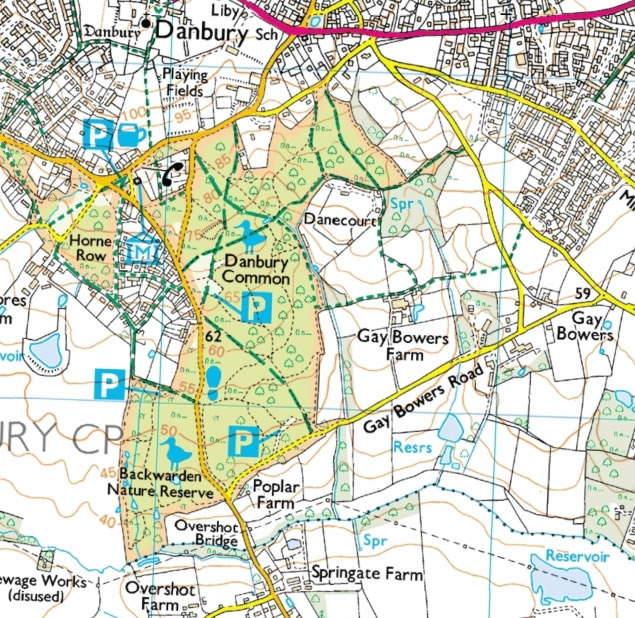 Courtesy of www.ordnancesurvey.co.uk
Danbury Trail Conditions
April 20, 2014, 4:48 pm
"Danbury jumps was very loose until the rain settled it down just nice...... Big thanks to the fella who helped out a fellow rider with a broken chain with a spare chain link.....
Shelfside"
April 15, 2014, 1:13 pm
"[quote="Karabbean":37wx6xz5][quote="Shelfside":37wx6xz5] 29ers are wack [/quote:37wx6xz5] Had a few quick goes on 29ers and they are well fast compared to my bike! Me saying their useless was just a tongue in cheek comment.[/quote:37wx6xz5] Karabbean.. you know how fast my 29'er goes
I'll ride mine over the danbury XC route fine but would not like it over the jumps.. just doesnt feel right for that.. IMHO Sent from my iPad mini using Tapatalk"
April 11, 2014, 8:49 pm
"Danbury jumps it's the best it's been for very long time, perfect....... Shelfside."
April 11, 2014, 8:16 am
"Danbury common was dry as a bone and running saweet last night."
April 6, 2014, 5:48 pm
"Went to cyclopark sat, very good & bone dry,danbury this morning, lashing down so I went home, left it for a couple of hours & then done 10 miles up & around felmores 2 lakes, some very good hills & then over to a new part I found in Langdon hills some awesome downhill sections & very good trails, been riding Langdon hills for many years but never found this section until now......legs are tired now but a good couple sessions over the weekend
Shelfside"
March 30, 2014, 9:56 pm
"Langdon hills was quite dry today. Few boggy spots but didn't really slow me down. Hopefully the weathers good next weekend so I can get my ass over to Danbury"
March 30, 2014, 11:39 am
"Danbury jumps running bone dry & not to busy Enjoy Shelfside"
Latest Danbury Forum Topics