Woburn Sands Mountain Biking

Riding In Woburn Sands
Woburn is an excellent place to ride when wet as it drains so well. Its a fun place to get some Freeride/DH action during the winter. It is super progressive, with very small to very very big stuff. Most of the jumps drops are built into runs, and its always a real challenge to get the flow on. This place makes you a better rider. The push up is ok too.

The trails have recently been named and lots of maintaince is going on. Credit to the locals. Make sure you give the forestry guy some cash. It covers insurance etc for the landowner. There is also some excellent XC here with flowey carpets of pine needle singletrack if you can find them.
Woburn Sands Woods Videos and Pics
Woburn Sands Location & Links
Trail Location
The trails are located here
How to get there by train from London
The nearest station is Woburn Sands (0.5 miles)(Euston via Bletchley)
How to get there by car
By car follow the postcode MK178SZ. Junction 13 of the M1 is the closest junction.
The layby you park in is located here.
Links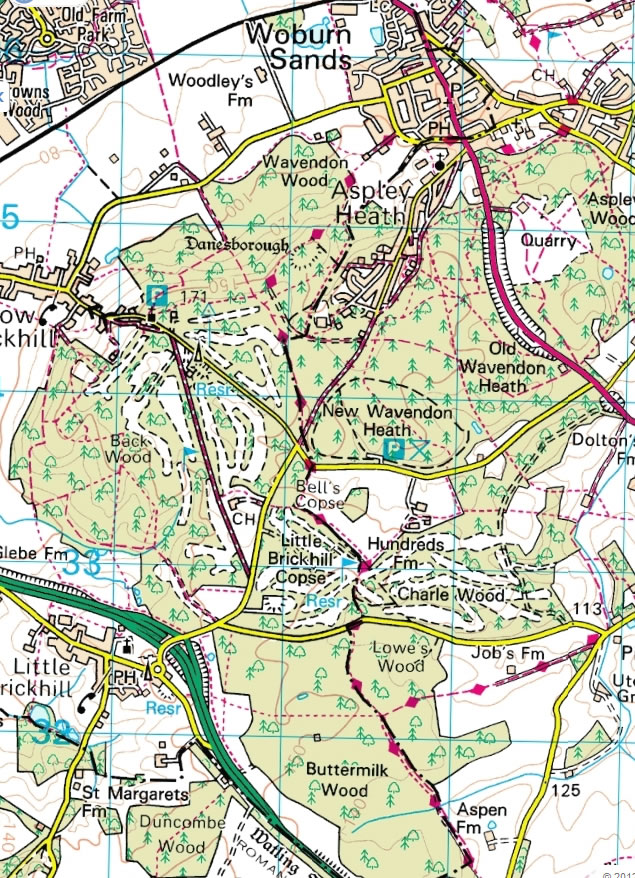 Courtesy of www.ordnancesurvey.co.uk
Woburn Sands Trail Conditions
Info taken from the
trail conditions thread
on the forum. Unfortunately there are no trail condition updates for Woburn within the last 6 weeks.
Latest Woburn Sands Forum Topics